"Our Company Mission"
"TO ENSURE THAT OUR ADVICE OFFERS PEACE OF MIND WITH THE RIGHT COVER TO PROTECT THOSE IN THEIR HOUR OF NEED"
How we need to develop our relationship to achieve our mission.
Honesty, the foundation of our relationship

Transparency, ensure's the best advice is given

Peace of mind, from knowing we have done our best for you
We promise to stay with you all the way, which means at a point of claim we will guide and assist to ensure that you get the best possible care that you deserve.
About Access to Healthcare
Access to Healthcare have over Twenty years' experience within the Private Medical Insurance industry. Having worked with one of the largest healthcare providers in the UK, we offer a wealth of experience and realise the importance of providing the right advice to suit your individual needs.
We have established a team of highly professional people who will advise, guide and assist you in making the right decisions for your healthcare requirements.
We pride ourselves, with a passion and belief that choosing the right healthcare policy, is crucial for your peace of mind and ours too.
What separates us from the other brokers, is that over the last fifteen years one of our Directors has worked solely with Doctors, Surgeons and GP's.
Working close with those on the front line, has given us an insight into not only their needs, but those of their patients as well. With this knowledge, of the choices and needs of those individuals we work hard to recommend the right policy for you.
We are Proud to Sponsor
The Independent Doctors Federation (IDF) is the most innovative, forward thinking and active independent medical practitioner organisation in Great Britain.  We are recognised as the nationwide voice of independent doctors in all matters relating to private medicine, their education and revaluation.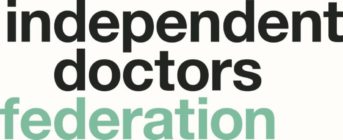 This year the health insurance premium for me and my wife was raised by 50% without any medical justification. St George in the form of Simon Cross came to our rescue.
Dr Michael Denman
Retired MRC staff member and Consultant Clinical lmmunologist
Simon's advice was important to me and his lifetime of experience and knowledge in this field was invaluable to us in choosing the right policy for our current and future private health care needs.
George Moncrieff
MRCP FRCGP